Regular Dance Classes Across Berkshire
within easy reach of South Oxfordshire, North West Surrey and North Hampshire.
Contact us now to arrange your start date and use the button below to join our mailing list.
Welcome to Jive Cats and our 2017 program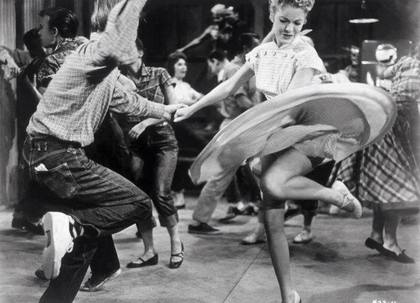 Never danced before? Two left feet? Shy at dances? Needing a slick routine for your wedding or other special event?
Our beginners jive classes are designed to help anyone get up and enjoy social dancing. Don't keep wishing that you could dance  - come and join our friendly jive sessions and you will soon be part of the action on the dance floor.
Our fun jive classes are a great way to quickly get off your seat and join the cats who are dancing to irresistible rhythms - it's an easy way to get fit, stay fit and make a lot of new friends so join us and put a big smile on your social life.
We teach authentic 6-beat jive which is perfect for dancing to rock'n'roll and for rhythm'n'blues. We will coach you to stay cool when the rhythm is hot and if you want we'll show you how to be a flash cat when the music is really jumpin'.
With regular dates for beginners, just find a convenient venue and select the link for full details:
Wallingford on Fridays 

  South of Oxford and serving Abingdon, Didcot, Wantage, Newbury, Wheatley, Thame, Henley-on-Thames, Caversham, Reading and Pangbourne.
Caversham on Thursdays 

  A few minutes from Central Reading and in easy reach of Wallingford, Henley-on-Thames, Twyford, etc.
Woodley on Wednesdays

  At Vibez dance studios in central Woodley. A short trip from Maidenhead, Wokingham, Henley-on-Thames, Bracknell and all parts of Reading.
Maidenhead on Tuesdays 

  At Norden Farm Centre for the Arts in Maidenhead, serving Windsor, Slough, Henley-on-Thames, High Wycombe and many parts of Reading. Licensed cafe bar.
Tilehurst on Mondays

  Close to the M4 exit (J12), serving south and west Reading and south Oxfordshire as well as Newbury and West Berkshire, etc.
Browse through our Jive Classes and  FAQs section and contact us to get started.